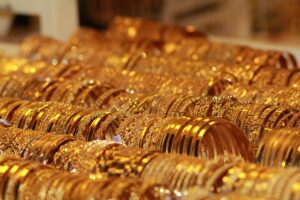 Islamabad October 13, 2023: In a noteworthy twist of events in Pakistan's financial arena, gold prices per tola have managed to remain quite steady on this fine Friday, coming in at a modest Rs197,100 per tola. However, underneath this façade of stability lies a more substantial trend – gold prices have taken a notable dip, tumbling by a considerable Rs18,000 per tola over the past month.
This drop can be credited to a mix of influential factors. At the forefront is the astonishing recovery of the Pakistani rupee against the US dollar. Over the last month, our local currency has shown remarkable strength, appreciating by a solid 10% or more since it hit an all-time low of 307.1 against the dollar on September 5.
Alongside the currency's impressive performance, government action has also played a pivotal role in driving down gold prices. The caretaker government has rolled up its sleeves to tackle illegal economic activities, including smuggling, hoarding, and price speculation, prevalent in the bullion and currency markets. In an effort to bring this under control, they've set up a task force, consisting of law enforcement and intelligence agencies, aimed at cracking down on what they term as the "gold mafia" and to curtail the smuggling of precious metals.
Market dynamics haven't been spared from this transformative wave. Traders have been cautious about revealing gold rates as they huddle together to eliminate market speculation. The bullion market, which had been shuttered for a whole month, made a comeback with a substantial decrease of Rs15,500 per tola for 24-carat gold. This move reflects the collective effort to bring stability to the market.
When we venture into the international arena, the price of gold per ounce stood at $1,892, showing an increase of $7 from the previous close. Nonetheless, it's important to note that this rate is still below the level we observed on September 12, when it was a pricier $1,911 per ounce.
In stark contrast to gold, silver rates have shown remarkable resilience. They've managed to hold their ground at Rs2,500 per tola on this very Friday, bucking the downward trend observed in gold prices.
The fact that gold prices have remained relatively steady amidst these sweeping changes underscores the intricate dance between global and local economic forces. It also highlights the enduring appeal of precious metals as a dependable store of value, even as their prices may ebb and flow.