Islamabad: The Pakistani rupee has been consistently displaying a commendable upward trajectory against the US dollar, demonstrating a notable 0.33 percent gain in the inter-bank market on the last working day of the week. This remarkable trend underscores the rupee's impressive 22nd consecutive increase in value against the greenback, affirming its enduring strength in the currency exchange landscape.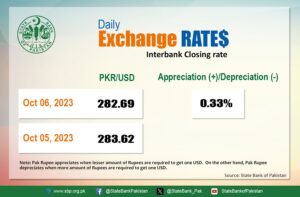 According to the State Bank of Pakistan (SBP), the rupee closed at 282.69 on Friday, marking a gain of Re0.93 in the inter-bank market. Moreover, SBP data shows that the closing interbank exchange rate for the British Pound (GBP) against the Pakistani Rupee (PKR) stands at Rs. 344.74.
The durability of the rupee's surge has raised concerns among experts. Earlier predictions had suggested that it might not dip below the 285 mark, primarily due to diminishing foreign exchange reserves, a lack of substantial inflows, and fragile economic fundamentals.
The primary reason for this phenomenon stems from the intensified measures taken against unlawful demands, encompassing illicit currency exchanges and the intricate world of hundi-hawala operations. This rigorous crackdown, it must be noted, has long been overdue in its execution; its implementation should have occurred considerably earlier in our timeline.
Zafar Paracha, Secretary-General of the Association for Exchange Companies in Pakistan, expressed admiration for the government's resolute stance against illicit trade, emphasizing the constructive outcomes achieved through these actions.
He underscored the ongoing endeavors to curb unlawful border crossings originating from Afghanistan, underscoring that the Pakistani Rupee (PKR) had seen a substantial 25% upswing in strength against the US dollar, characterizing this uptrend as both gradual and sustainable.
With an eye to the future, he radiated optimism about the potential for the dollar's depreciation to Rs250 in the near term. Paracha maintained that the industry would undergo fortification in the wake of the crackdown, and he anticipated a commensurate enhancement in the nation's gross domestic product (GDP).
He accentuated the pivotal role played by the government in fostering positive change, asserting, "The government's manifold initiatives are contributing significantly to this transformative process. From my perspective, our preeminent concern should not pivot solely on electoral matters; rather, we should prioritize the amelioration of our nation's overall conditions."