Islamabad: The Ministry of Commerce has implemented an export ban on 212 items destined for Afghanistan, as outlined in the Transit Trade agreement.
This directive has been formally issued through a Statutory Regulatory Order (SRO). It pertains to a wide range of goods, including various types of cloth, automobile tires, tea leaves, cosmetics, and toiletries that are now prohibited from being transported to Afghanistan.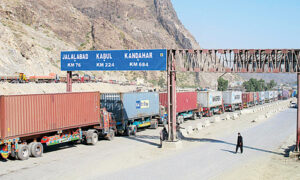 The decision came after a day when Pakistan imposed a fee equivalent to 10% of the ad valorem value of the goods, which is now mandatory during the declaration process for Afghan transit commercial goods entering Afghanistan through Pakistan.
This fee applies to a wide range of items, including confectioneries, chocolates, footwear, various machinery, blankets, home textiles, and garments.
Pakistan has a history of offering economic assistance to Afghanistan. Following the Taliban's assumption of control in Kabul on August 15, 2021, Islamabad extended tax and duty exemptions to a range of goods, including fruits and vegetables.
Additionally, as of July 6 of the preceding year, the government permitted the trade of all products to Kabul via land routes using the Pakistani rupee.
But this assistance to the Afghan Government has adversely affected the Pakistani economy in many ways, i.e., smuggling of dollars which is almost 750 million dollars per month, which has increased the pressure on the Pakistani rupee, according to various estimates of experts.
In a move aimed at discouraging smuggling and ensuring proper taxation, the government has taken a significant decision. This development coincides with the government's directive for all illegal immigrants, including 1.73 million Afghan nationals, to leave the country or face expulsion.
To counteract smuggling activities, Customs has implemented a range of policies by the Customs Act of 1969. Notably, essential commodities such as wheat, flour, sugar, and urea have been included in an updated essential commodities list to reinforce the legal framework.
Furthermore, the jurisdiction of the Customs Act has been extended from the original 5km to 10km near the borders with Afghanistan, India, and Iran, and to 50km in specific Balochistan districts. This expansion enhances the authority's ability to combat smuggling effectively.
In a proactive measure, the government has appointed the Chief Collector of Customs for Balochistan to spearhead efforts in addressing smuggling concerns and collaborating closely with law enforcement agencies.