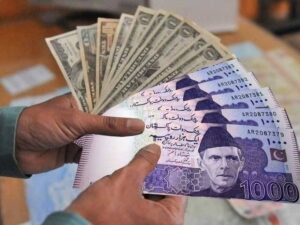 The Pakistani rupee has been on an impressive winning streak, demonstrating remarkable strength against the US Dollar for a continuous 24-day period. Commencing its trading day at 282 in the interbank market, the rupee surged to an impressive high of 280.51 during the course of the day, showcasing its robust performance.
Interbank closing #ExchangeRate for today https://t.co/NDEA8exty1#SBPExchangeRate pic.twitter.com/3SZJwpG3Bp

— SBP (@StateBank_Pak) October 10, 2023
Over the span of the last 21 trading sessions, the PKR has displayed unwavering resilience, accruing an impressive gain of Rs. 26.54 against the greenback. The open market rate for the US Dollar has experienced a significant recovery, surging by approximately Rs. 57 since the onset of September 2023.
As the trading day reached its conclusion, the Pakistani rupee made a notable statement with a 0.41 percent appreciation, closing at 280.5, marking an impressive gain of Rs. 1.14 against the dollar. Notably, the gap between interbank and open market rates has undergone significant contraction, with a reduction of nearly Rs. 52 witnessed in the previous month and a further decrease of around Rs. 7 observed in October.
However, it's important to consider the broader context, as despite these recent gains, the rupee has navigated through a challenging journey, having depreciated by nearly Rs. 61 since the beginning of January 2023. Additionally, it has experienced a substantial decline of over Rs. 108 against the greenback since April 2022.
The performance of the PKR in the interbank market has also displayed some nuances, with gains against certain currencies, such as the Saudi Riyal, and losses against others, including the Canadian Dollar and Euro. These fluctuations in exchange rates underscore the complex dynamics at play in the currency markets.