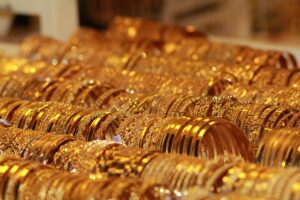 Islamabad, October 16, 2023: In an intriguing twist of fate, gold prices in Pakistan have taken a dip, echoing a wider international trend in the world of precious metals. The price for one tola of gold has seen a significant drop of Rs1,900, and the effects of this shift are being felt throughout the local jewelry and investment communities.
The All Pakistan Gems and Jewellers Sarafa Association (APGJSA) wasted no time in reporting on this market development. Not only has the price of one tola of gold seen a decrease, but the impact extends to the 10-gram gold market as well, with a Rs1,629 decrease. This price dip has piqued the interest of both investors and everyday consumers, all keeping a close watch on these ever-changing numbers.
What makes this price drop even more captivating is the recent surge in gold prices. Just a short time ago, gold prices in Pakistan witnessed a robust increase of Rs4,900. However, this new trend contradicts those gains as it aligns with a broader $15 drop in the international rate of gold. This inherent volatility in gold prices serves as a stark reminder of the unpredictable nature of the global economy.
On the flip side, things are looking stable for silver. In stark contrast to gold's rollercoaster ride, silver rates in Pakistan have remained steady at Rs2,500 per tola. This stability provides a sense of security for those with an eye on silver, be it for investment or adorning their jewelry collections.
As gold continues to capture the imagination of investors and consumers alike, this recent decline serves as a testament to the dynamic and interwoven nature of the global market. It's a stark reminder of how local and international factors can sway the value of precious metals and influence the decisions and investments of people right here in Pakistan. The precious metals market will always remain an area of keen interest for anyone involved in the world of finance and investments.