Islamabad, October 16, 2023: Pakistani Rupee is showing incredible strength by extending its winning streak against the US dollar in the 28th consecutive session. The rupee has flexed its muscles, settling at an impressive 276.83 against the US dollar in the inter-bank market.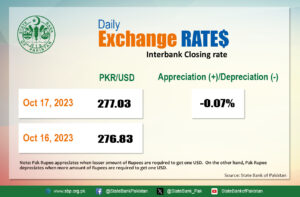 The recent surge is awe-inspiring. We're talking about a 0.29% increase, and it's not just a one-day wonder. The rupee has been on an upward journey for quite some time. Since hitting rock bottom at 307.1 on September 5, it has staged a remarkable comeback, gaining a whopping 10.93% in value.
Last week was particularly spectacular. The rupee managed to score a 1.79% increase during just five sessions, wrapping up the week at 277.62 against the US dollar. That's the kind of consistency that's turning heads in the financial world.
But what's the secret behind this extraordinary recovery? Well, it's a combination of factors. There's been a crackdown on smuggling, and the central bank has tightened its grip on the Exchange Companies (ECs) sector. These moves have played a crucial role in reviving the rupee and bringing it back into the game.
And the good news doesn't stop there. Dr. Shamshad Akhtar, the Federal Minister for Finance, Revenue, and Economic Affairs, has been making waves on the international stage. She recently participated in a high-profile meeting with the Managing Director of the International Monetary Fund (IMF) in Morocco. Dr. Akhtar's commitment to Pakistan's economic prosperity and global financial cooperation was loud and clear. She emphasized Pakistan's dedication to economic development, signaling that the nation is ready to make its mark.
The global stage isn't dull either. The US dollar is holding its ground, thanks to rising tensions in the Middle East. Everyone's waiting with bated breath for a speech by Federal Reserve Chair Jerome Powell, hoping for insights into the US central bank's stance on interest rates. The consensus among market experts is that the Federal Reserve will keep rates steady in the upcoming monetary policy decision in November. But there's still a 32% chance that the central bank might surprise us with a rate hike in December.
Oil prices, often seen as a barometer of currency stability, have remained steady above $90 a barrel. The world is closely watching the ongoing Israel-Hamas conflict to see if it draws other countries into the mix and impacts global oil markets.
The incredible performance of the Pakistani rupee is a testament to the country's resilience and determination to stabilize its currency and improve its overall economic outlook. It's a story of perseverance and revival that could have a significant impact on Pakistan's economic landscape and its position on the world stage in the months to come.