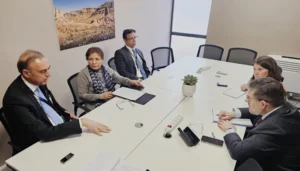 Islamabad, October 16, 2023: In a recent visit to Morocco for the annual meetings of the World Bank and the International Monetary Fund (IMF), Caretaker Minister for Finance, Revenue, and Economic Affairs, Dr. Shamshad Akhtar, made headlines by emphasizing Pakistan's unwavering commitment to transparency, investor confidence, and global financial stability.
During her stay in Morocco, Dr. Akhtar engaged in a crucial meeting with a high-level delegation from Moody's, the renowned global financial services company. In this session, she underlined the significance of transparency in building investor trust and maintaining a positive credit rating in the world's financial markets. Her assurance holds substantial importance for Pakistan's economic reputation on the international stage.
Notably, Dr. Akhtar had previously voiced Pakistan's commitment to not only achieving economic prosperity but also actively participating in global financial cooperation.This commitment showcases a broader dedication to financial stability and growth, even in the face of a challenging economic landscape.
Dr. Akhtar's interactions extended beyond the Moody's meeting. She took part in a high-profile gathering with the Managing Director of the IMF, Kristalina Georgieva, alongside finance ministers and state bank governors from the Middle East, North Africa, Afghanistan, and Pakistan. These discussions revolved around pivotal global economic issues and collaborative efforts aimed at enhancing financial stability on a worldwide scale.
In addition to these high-level encounters, Dr. Akhtar met with the Minister of State for Financial Affairs of the United Arab Emirates (UAE), Mohamed bin Hadi Al Hussaini. Their talks focused on strengthening economic ties between Pakistan and the UAE, exploring opportunities for greater collaboration in finance and revenue matters, and promoting investment for mutual economic growth. Both parties expressed optimism about the potential for more significant collaboration and pledged to continue working together to advance their countries' economic interests.
Furthermore, Dr. Shamshad Akhtar also held a meeting with an official from S&P Global, an independent credit ratings agency. During this discussion, she stressed the government's unwavering commitment to ensuring financial stability, improving fiscal governance, and implementing reforms intended to contribute to sustainable economic growth. These comprehensive efforts highlight Pakistan's multifaceted approach to bolster its financial standing on the global stage.
Dr. Akhtar's engagements in Morocco reflect Pakistan's determination to maintain a positive credit rating, foster investor confidence, and play a vital role in global financial stability. Her commitments and discussions with international financial organizations and regional partners underscore the importance of transparency and collaboration in today's challenging economic landscape.